Fully Custom Websites that make you STAND OUT!
Xanatos.com, is not the average web design company. Xanatos.com specializes in fully custom websites that are focused on your business needs. With advanced capabilities like custom video overlays and embedded video, custom audio, and custom applications, we can make your site shine and make a stunning impression on your site viewers - and your competition.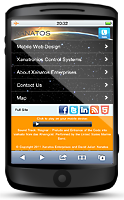 Mobile Web Design
With the explosive growth of powerful hand-held multi-function devices like the Droid, the iPhone and others, more and more people are now using hand-held devices more frequently than traditional desktop or laptop computers for their routine access of the web. Xanatos.com can provide you with a robust mobile web presence that matches your standard web presence. If you go to Xanatos.com with your handheld web-enabled device, you'll see our mobile site and the powerful features we can bring to bear for you. Contact us today to learn more about our powerful yet inexpensive mobile website development services.
Search Engine Optimization
Simply put, the initial construction of your website can go a LONG way toward obtaining good page ranking in search engines such as google and others. It is surprising how many designers still do not properly take advantage of basic coding rules for good search engine positioning, and how many organizations pay a lot of money for "Search Engine Optimization (SEO)" services with third-party firms that make changes to their clients' websites that could have been done easily by the site designer. Xanatos.com utilizes these SEO basics as part of the initial site build so you get higher ranking right out of the gate. SEO Services can continue after the launch with more advanced techniques and targeting of key words and phrases to gain even higher results. Contact us today to find out how our SEO services and web site design can benefit you and your business.
Get Friendly with Social Media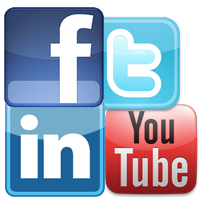 The rise in Social Media, such as Facebook, Twitter and LinkedIn, among others, has literally changed the face of the world forever. Recently, what would have been unimaginable just a few years ago became reality and the world watched in awe as people rose up and regained their voice from a repressive regime by using tools like Facebook, Twitter and YouTube to ensure their struggle was not cloaked in darkness by the forces that sought to silence them. The power of Social Media to get the word out about your products, services, or announcements cannot be ignored, and Social Media should be a part of every web marketing campaign. Xanatos.com has experience in setting up social media presences and helping you to ensure that your image remains professional on them. Contact us today to learn how Xanatos.com and leverage the power of Social Media for your business.
Technologies & Capabilities
Video, Audio, HTML5, JavaScript, CSS, DHTML, AJAX, VBScript, ASP, PHP, Perl, CGI, Flash, Databases (SQL, MS Access), Custom Graphics, Logo Design, Business Cards, Coordinated Marketing Materials