Live, from New York...
Here are some photos of the installation at a truck stop in New York State. Below are some photos of the prototyping stages, and of the final manufactured product. Click any image to enlarge.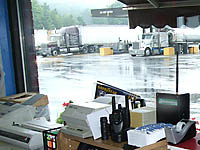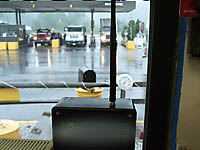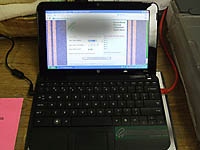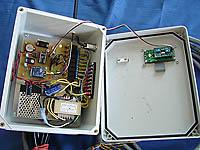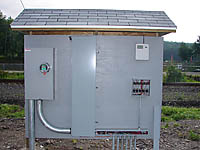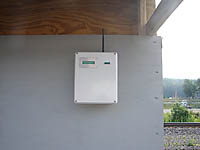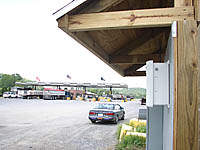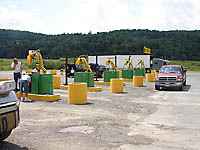 The client is a company servicing the transportation sector and manufactures Truck Stop Electrification Systems to satisfy the growing demand for alternatives to extended truck idling. More and more states are passing anti-idling laws to protect the environment and reduce energy consumption. Long-haul trucks, however, often need to remain idling even when the drivers are sleeping in order to keep their loads refrigerated, or to maintain a habitable environment in their cabs during hot or cold weather. These anti-idling laws have created a need for methods to protect their loads and keep their cabs comfortable. The client is now servicing this need around the country at more and more locations... but at first, it looked like it would be a rocky start...
Time was Running Out and Xanatronics Delivered!
When the client approached Xanatronics, they had already spent significant amounts in a futile attempt to create an activation system for their Truck Stop Electrification Systems. A variety of off-the-shelf controllers had been purchased and tested, none of which could perform the multiple custom timed activations required by the client's systems. And at the time that they learned of Xanatronics, they had less than a month to go before they had to deliver a working system!
All That and Then Some!
The client presented their most basic needs to Xanatronics and we knew we could help. We asked what other functions they wished for on their systems - their hoped for extras that they had abandoned earlier on in their quest. One month later, they were installing their systems with Xanatronics controls running the show, complete with all basic functions - and all of the extras as well!
Xanatronics entered into an extended relationship with the client and we continue to refine existing functions and add new functions as their business model evolves. Xanatronics now designs not only the remote wireless activation systems (with a range in excess of a mile), but also the environmental controls that regulate the cab air temperature by controlling the HVAC units.
The client is a fantastic company run by some fine individuals, doing work that actually helps the environment. Please contact us for references and client information.